Last year, more than $332 billion were spent on digital marketing campaigns worldwide, yet few organizations know how to accurately measure their return on that investment.
"I'll let you in on a dirty little secret. Digital ads don't work nearly as well as their advertisers say they do," says MIT digital scientist and business analytics expert Sinan Aral, author of the wildly popular book, "The Hype Machine: How Social Media Disrupts Our Elections, Our Economy, and Our Health–and How We Must Adapt" (2020), which is fast becoming the quintessential digital marketer's guide to measuring – and achieving – ROI. "The other dirty secret is clicks are a terrible proxy for conversions. The correlation between clicks and conversions is typically nonexistent."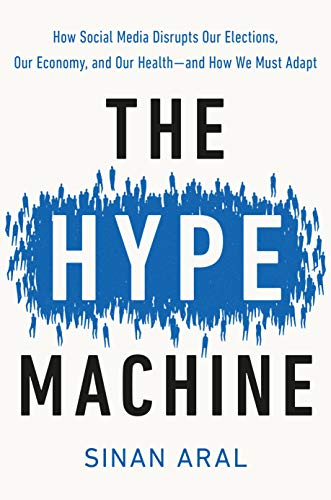 Aral, an award-winning researcher, entrepreneur and venture capitalist,
offers organizations both a scientific and real-world perspective
on how information spreads through social networks and how to gain a competitive edge using information acquired through digital networks. He teaches marketers at top firms like
Twitter, Yahoo, Microsoft, Facebook, WeChat, Macy's, Levi's and 1-800-Flowers
how to
maximize their influence on social media
and measure the impact of their campaigns.
"The hype machine is a digital marketing machine used to target users and enable mass persuasion," says Aral. "And the best way to measure a campaign's effectiveness is to look at lift, which is a measure of the extent to which an ad, video or other persuasive message changes people's behavior. The conversion rate can be 100% while the lift from the ad can be zero."
Twenty years in the making, "The Hype Machine" has been named 2020 Best Book on Artificial Intelligence by WIRED and the Book Authority ranked it among the Best New Technology Books and the Best New Economy Books to Read in 2021. In this 2018 TED Talk, which has over two million views, Aral gave audiences a preview of the research he would later share in "The Hype Machine," which New York Magazine called "prophetic."
As an advisor, speaker and educator, Aral can teach your organization how to read and leverage analytics to drive growth, make better decisions and plan forward – whether you are selling products or services, promoting causes, or trying to prevent hacking, disinformation, fraud or election interference.
"We're at a crossroads," says Aral. "What we do next is essential, so I want to equip people, policymakers, and platforms to help us achieve the good outcomes and avoid the bad outcomes."
For the latest updates from Sinan Aral, follow him on Twitter or LinkedIn.
Praise for "The Hype Machine"
"The most important book of the year! Our friendships, economy and society now depend on billions of social media connections around the world and no one on the planet understands them better than Sinan Aral….[A] lively, engaging masterpiece, drawing on his 20 years of pioneering research, Sinan separates hype from reality, clarifies our most pressing challenges and explains how we must respond." — Erik Brynjolfsson, Director of the Stanford Digital Economy Lab and bestselling coauthor of "The Second Machine Age"
"In a sea of books about social media, this is the one to read. Sinan Aral understands the new social age like no one else and 'The Hype Machine' offers the single best examination of how social media works, what it does to us and how we can make it better for consumers, citizens and democracies. In short, it offers solutions for making social media 'social' again." — Clint Watts, author of "Messing With the Enemy"